Praxis Precision Medicines Announces Positive Data from Randomized Withdrawal Sub-Study and Long-Term Extension of Essential1 Study for Ulixacaltamide
August 8, 2023 at 7:00 AM EDT
Patients dosed with ulixacaltamide up to 14 weeks showed maintained or improved efficacy results, as measured by mean changes in the modified Activities of Daily Living 11 (mADL111)

Patients withdrawing from ulixacaltamide to placebo experienced worsening in mADL11
Sub-study execution confirmed design features for the upcoming Phase 3 program expected to initiate in Q4 2023
BOSTON, Aug. 08, 2023 (GLOBE NEWSWIRE) --  Praxis Precision Medicines, Inc. (NASDAQ: PRAX), a clinical-stage biopharmaceutical company translating genetic insights into the development of therapies for central nervous system (CNS) disorders characterized by neuronal excitation-inhibition imbalance, today announced further data from two additional analyses of the Essential1 study for ulixacaltamide. Ulixacaltamide is a differentiated and highly selective small molecule inhibitor of T-type calcium channels designed to block abnormal neuronal burst firing in the Cerebello-Thalamo-Cortical (CTC) circuit correlated with tremor activity and being developed for Essential Tremor.
"We were extremely happy to see the OLE and randomized withdrawal results providing further support of the potential durable benefit and safety profile of ulixacaltamide," said Marcio Souza, president and chief executive officer of Praxis. We believe the randomized withdrawal sub-study confirmed the robustness of the Phase 3 design and, together with the 14-week data from the OLE of Essential1, reinforce the assumptions used for our upcoming Phase 3 program. We look forward to sharing more about these data and our Phase 3 program details at our upcoming R&D portfolio day in early October."
Open-Label Extension
Following completion of the initial 8-week double-blind treatment phase in Essential1, eligible patients had the option to continue their access to ulixacaltamide in an open-label extension (OLE) phase. Participants who continued to the OLE phase remained blinded for a 6-week lead-in period.
There was no change to the overall safety results through 14 weeks of treatment.
65 patients who completed the double-blinded portion of Essential1 were eligible to participate in the OLE2 and completed the week 14 assessment.
Patients who were eligible and continued on ulixacaltamide (n= 39) experienced an additional mean improvement in mADL111 of 1.7 points from 3.09 at Week 8 (95% CI: 0.98, 5.2) to 4.81 (95% CI: 2.38, 7.23) after 14 weeks of treatment.
Patients who switched from placebo during the double-blind phase of Essential1 to ulixacaltamide treatment during the OLE 6-week lead-in (n= 26) experienced mean improvement in mADL11 of 3.15 points, from 1.21 at Week 8 (95% CI: -1.04, 3.46) to 4.36 (95% CI: 1.68, 7.05).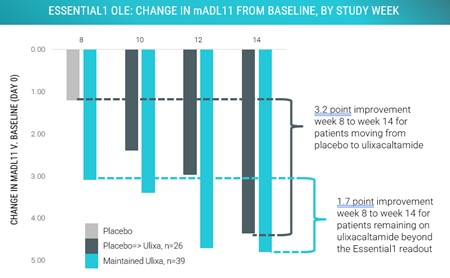 Randomized Withdrawal Sub-Study
Following the announcement of the Essential1 study topline results, Praxis amended the open-label protocol to further assess the criteria to be used in the upcoming randomized withdrawal Phase 3 study. In this sub-study, patients were re-randomized in a blinded fashion to either receive placebo or continue to receive ulixacaltamide. Twenty-one patients who completed assessments at week 14 of the OLE were eligible to participate in the blinded sub-study. Patients were evaluated weekly over a total of 6 weeks, with 11 patients assigned to ulixacaltamide and 10 to placebo for the initial 3-week period, crossing over to either placebo or ulixacaltamide for an additional 3-week period. Blinded rescue was triggered for patients on placebo if loss in the mADL11 exceeded 2 points at any timepoint.
Patients who switched from ulixacaltamide to placebo experienced an average loss of effect in their mADL11 per week of 47% (mean loss of effect of - 1.15 points/week), compared to 6% improvement in global mean change per week (mean improvement of 0.16 points/week) for the periods receiving ulixacaltamide. In addition, 10 patients assigned to placebo met the rescue criteria to restart ulixacaltamide.
85% of the patients who received ulixacaltamide (17 of 20) and 52% who received placebo maintained their mADL11 within 3 points compared to baseline, confirming the definition of patient stability to be used in the Phase 3 program.
No new safety signals emerged and there was no change to the overall safety results observed in the 8-week double-blind treatment phase.

The results from the sub-study supported a number of proposed design elements for the upcoming Phase 3 randomized withdrawal study, including the responder criteria and feasibility of rescuing patients with ulixacaltamide. Additional study design elements will be discussed in more detail at an upcoming R&D portfolio event in early October.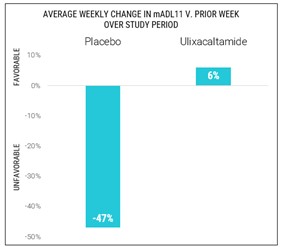 About Essential Tremor 
Essential Tremor (ET) is the most common movement disorder, affecting roughly seven million people in the United States alone, including approximately two million diagnosed patients. ET is characterized by involuntary rhythmic movement in the upper limbs, with or without tremor in other body locations such as the head, vocal cords, or legs. These tremors significantly disrupt daily living and are progressive in nature, with increases in tremor severity and amplitude commonly observed over the course of the disease. There is only one approved pharmacotherapy for ET, propranolol, a beta blocker approved by the FDA in 1967, that offers limited efficacy and poor tolerability and that is contraindicated for comorbidities that affect a significant share of the ET population. Other beta blockers and anti-convulsants are used off-label, though similarly are characterized by limited efficacy and tolerability. For these reasons, approximately 40% of patients who seek pharmacotherapy treatment for ET discontinue within two years.  
About Praxis
Praxis Precision Medicines is a clinical-stage biopharmaceutical company translating insights from genetic epilepsies into the development of therapies for CNS disorders characterized by neuronal excitation-inhibition imbalance. Praxis is applying genetic insights to the discovery and development of therapies for rare and more prevalent neurological disorders through our proprietary small molecule platform, Cerebrum™, and antisense oligonucleotide (ASO) platform, Solidus™, using our understanding of shared biological targets and circuits in the brain. Praxis has established a diversified, multimodal CNS portfolio including multiple programs across movement disorders and epilepsy, with four clinical-stage product candidates. For more information, please visit www.praxismedicines.com and follow us on Facebook, LinkedIn and Twitter.
Forward-Looking Statements
This press release contains forward-looking statements within the meaning of The Private Securities Litigation Reform Act of 1995 and other federal securities laws, including express or implied statements regarding Praxis' future expectations, plans and prospects, including, without limitation, statements regarding the clinical development of ulixacaltamide, as well as other statements containing the words "anticipate," "believe," "continue," "could," "endeavor," "estimate," "expect," "anticipate," "intend," "may," "might," "plan," "potential," "predict," "project," "seek," "should," "target," "will" or "would" and similar expressions that constitute forward-looking statements under the Private Securities Litigation Reform Act of 1995.
The express or implied forward-looking statements included in this press release are only predictions and are subject to a number of risks, uncertainties and assumptions, including, without limitation: uncertainties inherent in clinical trials; expectations regarding the impact of clinical trial results on future trials; the expected timing of clinical trials and submissions for regulatory approval or review by governmental authorities; regulatory approvals to conduct trials; and other risks concerning Praxis' programs and operations as described in its Annual Report on Form 10-K for the year ended December 31, 2022, its Quarterly Reports on Form 10-Q and other filings made with the Securities and Exchange Commission. Although Praxis' forward-looking statements reflect the good faith judgment of its management, these statements are based only on information and factors currently known by Praxis. As a result, you are cautioned not to rely on these forward-looking statements. Any forward-looking statement made in this press release speaks only as of the date on which it is made. Praxis undertakes no obligation to publicly update or revise any forward-looking statement, whether as a result of new information, future developments or otherwise.
1 mADL11 comprises 11 elements of the TETRAS Activities of Daily Living, excluding social impact, individually scored
2 All patients eligible to participate in the OLE were enrolled in Essential1 under version 4 of clinical protocol
Photos accompanying this announcement are available at
https://www.globenewswire.com/NewsRoom/AttachmentNg/f3818106-d493-4252-812b-9c515fb1520c
https://www.globenewswire.com/NewsRoom/AttachmentNg/f38b9ea9-a25f-4d4e-b82f-92660c6c6a82

Investor Contact Praxis Precision Medicines investors@praxismedicines.com 857-702-9452 Media Contact Ian Stone Canale Communications Ian.stone@canalecomm.com 619-849-5388